Extensions are small software programs built from web technologies such as HTML, JavaScript, and CSS.
Which helps us simplify our browsing experience and enhance the functionality of the Chrome browser.
For example, some extensions allow you to change the language of your browser and some allows you to correct your mistakes while typing in the browser, and many more which you can see in the list below.
A single extension includes several components and a range of functionality.
Extensions must be downloaded separately extensions do not come with the browser. When you install the extension for the first time, the Chrome browser asks you for permission to view or change the extension.
An extension can be installed "online" from a web page or directly from the Chrome Web Store.
Best Chrome Extensions for Productivity
1. HubSpot Sales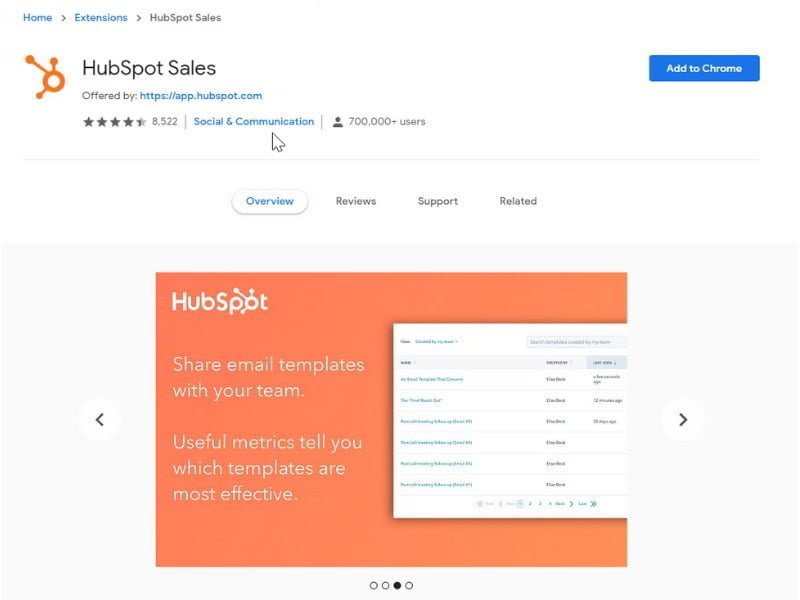 There is a browser extension for Chrome that is being used by more than 30,000 customers in 90 countries to grow their business.
The HubSpot Sales Extension allows you to track your email sent from Gmail and login to help you uncover more leads in less time.
Email tracking.
CRM for Gmail.
Create share email templates.
Todoist, currently used by more than 25 million people to organize both large and small businesses, is listed as "the best to-do list right".
How proud it is that this is a simple yet powerful to-do category of the best-in-class list by Apple, Google, The Verge, Forbes, and others.
Capture and organize tasks the moment they pop into your head.
Remember deadlines with reminders and due dates.
Build lasting habits with recurring due dates like "every Monday".
If you want all your work like email search, Linkedin outreach, personal email, sms, and Whatsapp messages, calls and tasks to be automated then you can take the help of Reply.
Among the top 50 devices for sale in 2020, G2 included Reply.
Find business emails on LinkedIn and push them to a sequence in Reply.
Engage your leads with automated multichannel sequences.
Analyze sequence results, A/B test your messages and improve team performance.
4. LastPass
LastPass is a great option for users who are looking for a secure password manager.
It is also very convenient for those who are troubled by the security of their computers and mobile devices.
This feature is not provided by any other password manager.
All your data, where you need it.
Protect yourself from breaches.
Simplify your life.
5. Add to Trello
With over 40,000+ daily active users rated it 4.8+ stars out of 5.
Trello cards can be created within Gmail.
This will add an "add card" button to the top of the email in your inbox as soon as you install it, so you can create a Trello card anywhere.
6. Extensions Manager
Installing multiple extensions on the Chrome browser can cause you problems.
Many SEO extensions may also be executed in the background, causing Chrome performance to slow down significantly.
You need to install an Extension Manager to deal with all your problems.
This helps you quickly find your related word from any web page.
One Key fast enables/disables an extension.
Provide list view and grid view, in line with user habits.
Give your extension an alias you like.
7. StayFocusd
If you sit at the computer all day and work, in which you have to find a lot of time-consuming websites and later they get lost, then you can use StayFocusd to avoid that which will help you from doing all this.
It stops you from getting distracted.
The app history helps you to keep track of your device usage.
The limited use of apps and websites keep you focused on your work.
Best Chrome Extensions for SEO
1. MozBar
To view any page or SERP, you can download MozBar from the Chrome Web Store and take important information from it. For example, if you want complete information about the page authority and domain authority of the site or page, then you can take the help of MozBar.
MozBar gives you instant metrics.
Provides all in one SEO on the go.
Instant metrics like Page Authority and Domain Authority.
2. Check my links
Check my links is mainly used by web designers, developers, and content editors to search for broken links.
It checks a lot of links on your website and reveals which ones are legitimate and which are broken, simple.
Mainly used by web designers, developers, and content editors.
Copy all the bad links in your clipboard.
It exposes valid, broken, and simple links.
3. NoFollow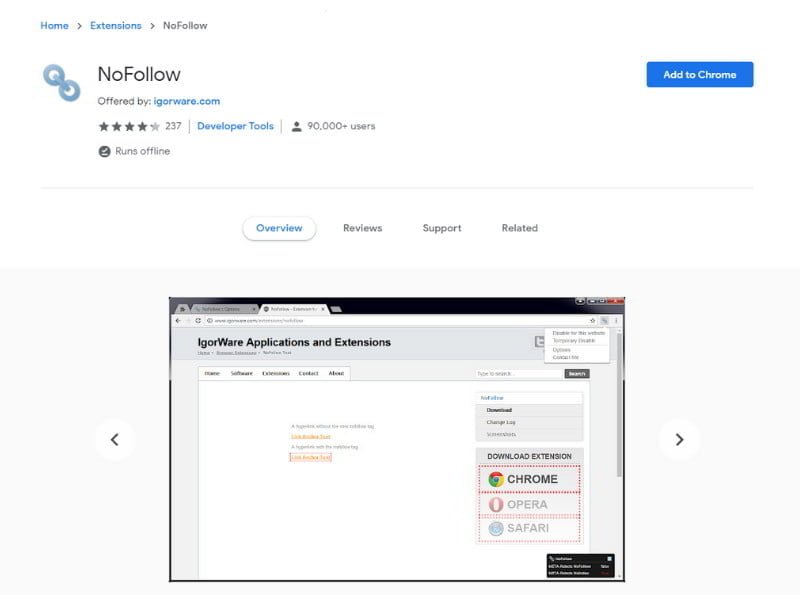 CSS styling allows freedom to separate results by using the NoFollow browser extension.
NoFollow is a popular browser extension available for all search engines by most the blogger, Digital Marketer.
Outlines "no-follow" links.
Outlines "do follow" links.
Outlines external links.
4. Impactana
There is no good chrome extension like Impactana to gain SEO, content marketing, and social media information for various web pages.
It helps you find effective content that has been used by more than 20000 people.
See Buzz metrics of Social Media.
Triggers share actions on Social Media.
Share with your "Buffer" account.
5. GrowthBar
Here you get keywords to target for SEO and PPC with keyword difficulty score and competitive research.
It always resides in search engine result pages (SERP), you can use it for good results.
Provides SEO analysis straight from the Google search results.
Provide you insights that you need.
All-in-one tool for SEO, SEM, and Facebook Ads success.
Best Chrome Extensions for Content Sourcing
1. HubSpot Collect
To avoid saving the contents of other applications or documents that you are reading online, you can save it in your hotspot software.
For which you need more and more resources to which you return and want to save them.
Save your time.
Save your content Online.
2. AwesomeScreenshot
It is a powerful Chrome extension that is being used by more than 2 million people worldwide.
If you feel the need for Screenshots or Screen Capture for your work, then we would suggest you AwesomeScreenshot extension which has the power to do all this.
In this, you can take a screenshot and edit it according to your need.
Record your Desktop, current Tab, or Camera only.
Record faces in your video by embedding your webcam.
Record voice with the Microphone option.
3. Evernote Web Clipper
It is a powerful Chrome extension that is being used by more than 5 million people worldwide.
If you share your content with your teams, you can use the Evernote Web Clipper extension for this work as it is the expert of this work.
You can save your link on it for later reading.
Save links to a clipboard.
Share your content with your teams.
4. Giphy for Chrome
It is a powerful Chrome extension that is being used by more than 300 thousand+ people worldwide to search for the best GIFs and stickers.
Nowadays everyone uses animated GIFs to engage emails, blogs, and social media posts and make them attractive.
With this extension, you can make your work easily without any hindrance in work.
If you want to avoid manually bookmarking websites which is a boring process then you can use the bookmark manager extension which makes your job easier.
In this, you can work like Save websites to bookmarks, create folders, add notes without opening a new tab.
Save websites to bookmarks.
Create new folders.
Best Chrome Extensions for Blogging
1. Grammarly
If you face any difficulty in grammar and spelling and style and pronunciation, you can use the grammar extension because it is a powerful Chrome extension that is used by over 12 million people worldwide to make their grammar mistakes to check or improve.
You can be confident knowing that grammar not only makes your article perfect but also clear and concise.
Works where you do.
High-quality writing.
2. Google Dictionary
When doing online research or working online, you come across words that you have never seen or heard before, you get confused, but now we are telling you about Google Dictionary Extension, which is a powerful chrome expansion, used over 5 million. + People all over the world.
With the help of this, you can see all the new words without looking in another tab.
Double-click any word to view.
Check the complete definition of any word.
Store a history of words.
3. Quick Write Text Editor
QuickWrite is the fastest, distraction-free writing tool that has been used by over 120,000 people so far.
When writing online, it is difficult to break free from the distraction of product writing.
It quickly opens a new tab for a clean and neutral text editor and auto-saves.
A customizable, offline extension.
A full-screen text-editor extension.
4. Office Editing for Docs, Sheets, and Slides
If you want to collaborate together on a live document and feel the need to directly view and edit Microsoft Office files in Google Drive without any software, you can use Office Editing for Docs, Sheets & Slides extensions.
Already installed on Chrome OS by default.
Save each file back to its original Office format.
View and edit Microsoft Word, Excel, and PowerPoint files.
Best Chrome Extensions for Security
1. HTTPS Everywhere
HTTPS Everywhere rewrites the request you send to any website you visit in Chrome to determine.
If your browser produces a secure version of a site that protects your security and computer from malware attacks.
Protects the computer from malware attacks.
2. Click&Clean
Used by over 3,000,000+ worldwide users to scan your PC for malware, to erase browsing history, to remove download history, to erase temporary files, to clear cookies, to clear cache and to protect privacy by clearing all traces of Internet activity.
250,000+ users worldwide have used it to view message statistics, to send the first message with friends, to turn on the profile picture guard, or to check the security settings of their account.
This prevents you from visiting unsafe websites with the help of real-time security technology that puts you at risk of a malware attack.
4. Ghostery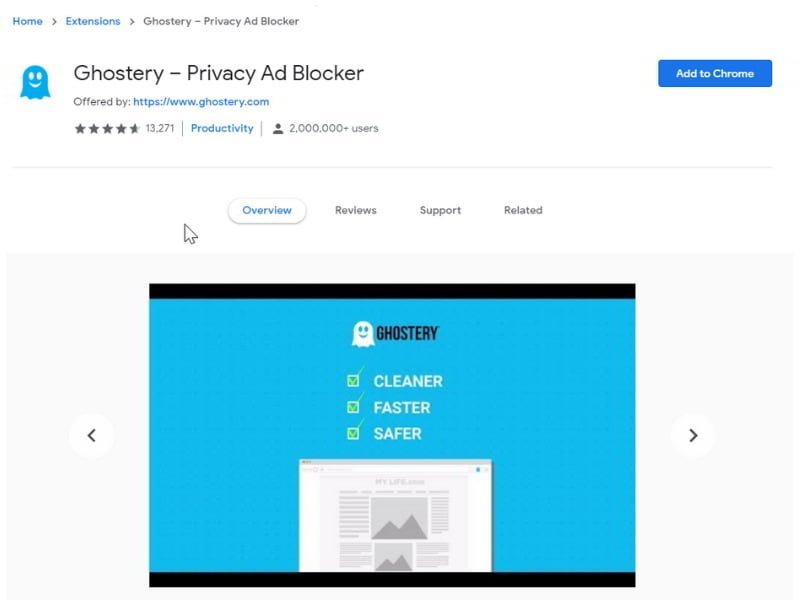 You can also use the globally popular Ghost Chrome extension to improve the browsing experience and speed up the load time of webpages and remove ads that view website content.
Which has also been used by 3 million people.
5. Checkbot
Checkbot is a Chrome extension that checks SEO, speed, security, broken links, HTML, JavaScript, CSS, redirect URLs, duplicate titles of 100 pages in one click.
It helps you analyze how safe and optimized your website is because it combines technical SEO with modern security.
6. Avast Online Security
Every site you visit, from Facebook to your bank or any social media platform where your data may be at risk, is already checked by Avast.
Avast protects you from the risk of phishing attacks.
7. FlowCrypt
You can use the flow-crypt extension to send and receive encrypted email and attachments to your colleagues, as it is efficient in this task.
This helps you ensure that your email is kept private and secure during transit to the recipient and is specific to the email.
8. Fair AdBlocker
Both malware and adware are available in the Fair AdBlocker Chrome extension. It is used to avoid malware attacks and advertisements and pop-ups.
Once it is installed, you can avoid the dangerous information that infects the computer in which you are less interested.
Best Chrome Extension for New Tab
1. OneTab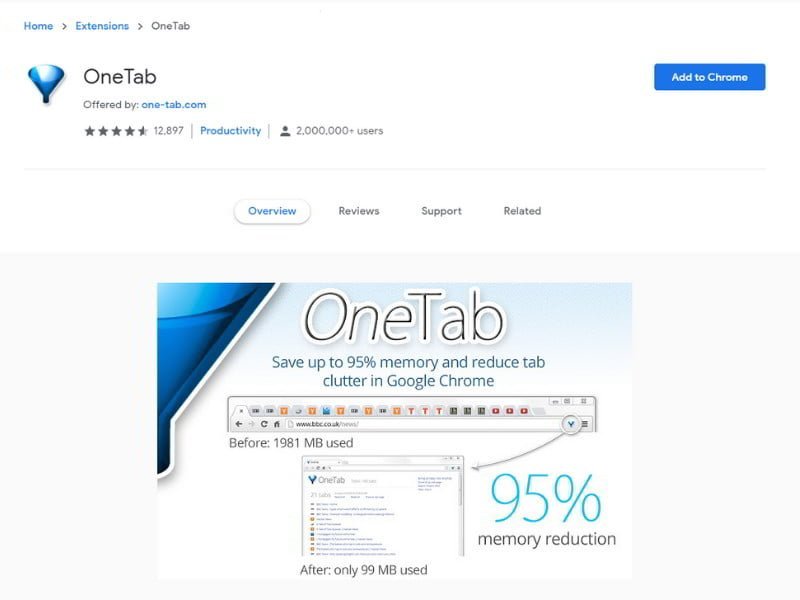 OneTab is a free Chrome add-in Extension that converts a set of browser tabs into a page of links, then restores tabs when needed.
It can instantly release gigabytes of memory when you need something else.
Windows XP desktop PC with 3GB of memory installed.
Reduces the use of Chrome's memory from 1GB to 2GB, about 100MB.
2. Momentum
Momentum may be a custom page designed for people that spend a large of their time in their browser.
The extension works with Google's Chrome, Microsoft Edge, and Firefox.
Add your own photos or mark specific ones as a favorite.
Add your own quotes.
Adjust color scheme and fonts. Autofocus mode multiple to-do lists.
3. Blank New Tab Page
Unlike other browsers, you can't set Chrome to point out a blank screen when a replacement tab is opened and that's what the Blank New Tab extension is here for.
After you put in the extension, you'll see a replacement tab with a white screen.
4. Infinite New Tab
Whenever you open a replacement tab, Earth view loads a shocking satellite from Google Earth.
The situation is haphazard, but you will see a part of the earth that you are looking down from the lower right-hand corner, and with a click recall the recent imagination.
5. Start.me
Start.me enables people to browse the web more efficiently.
we offer a totally customizable start page that works across all of your browsers and devices.
Pages are often shared with others, so your co-workers also can enjoy your collection of online resources and web organization skills.
6. Earth View
Whenever you open a replacement tab, Earth view loads a shocking satellite from Google Earth.
The situation is haphazard, but you will see a part of the earth that you are looking down from the lower right-hand corner, and with a click recall the recent imagination.
7. Infinity New Tab Pro
Infinity New Tab is your shortcut to the remainder of the web, with fast links to the sites you would like to access the fastest.
This extension allows you to possess widgets for the weather, your Gmail account, to-do list, your search history, and a built-in notepad.
Infinity New Tab Pro is a free service for Chrome and Firefox.
8. New tab URL redirect changer plus
This Chrome extension automatically opens a page of your choice when clicking on a replacement tab.
The tool can even redirect to a selected file you've got saved in Google Drive or elsewhere online.
Best Chrome Extensions for Social Media
1. Bitly
Bitly uses mostly for social media posts. Bitly is the world's leading link management platform, offering tools, data, and analytics that allow businesses to have their customer experiences.
Social networking shortens 600 million links per month to be used in SMS and email.
Hosted links.
Short URLs.
Click count.
Custom URL notes.
Allows tags to help organize content.
2. Buzzsumo
BuzzSumo analyzes multiple pieces of content, making extensive and robust data accessible to businesses of all sizes. We provide information about what content is working, why, and what influencers can enhance it.
Buzzsumo is getting used to my marketing blog WeeklyGrowth and for a few clients. it's been used primarily to seek out popular content ideas that are heavily shared, share content on social media to stay our accounts active and find influencers to amplify our content.
This is to identify competing content in real-time.
Backlink insights for content marketing.
Facebook analyst.
Hashtag Search Capabilities.
Provides real-time data and analysis.
3. Pinterest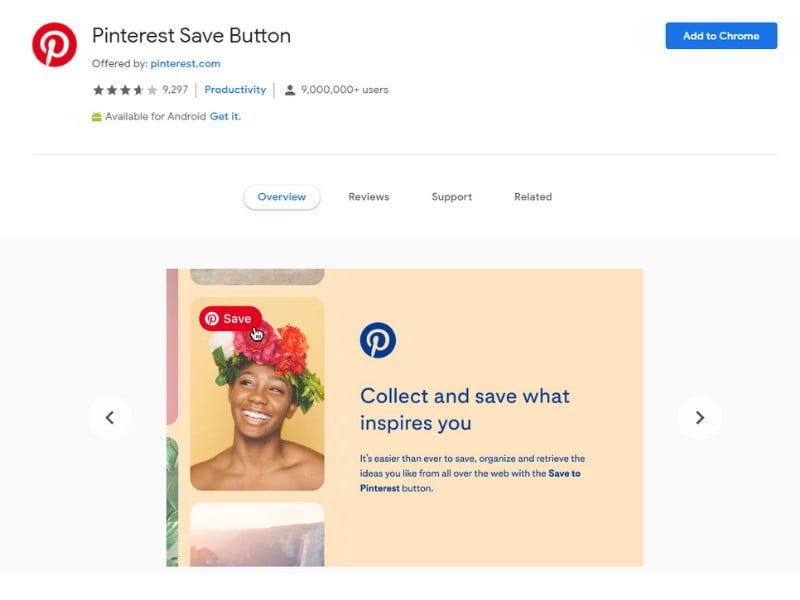 Pinterest is a social media platform. Pinterest helps search for images and videos using animated Gifs as pinboards. 400 million monthly active users by August 2020 on Pinterest.
Use the Pinterest browser extension to save links to your boards.
Use visual search on the web.
Long press the iOS app to access the shortcut.
4. Save to Facebook
Save is pretty simple. When someone in your feed posts a link you want to revisit later, just click the Save button within the bottom right of the post or the drop-down arrow within the upper right of a post (or the "…" on a Facebook page) then select Save.
250 million people use the save feature every month.
A very good resource for industry news and other links.
5. RIteTag
RIteTag is the popular use best tool for hashtag tracking and social media.
I have recently started using this tool. The chrome extension of this tool allows me to find hashtags for whatever page I am browsing.
I use it along with Buffer and it works awesome to schedule content across all social platforms.
One of the good places to get into real-world tech experience.
Online tech firm so you do have time and place constraints.
Everybody is always willing to help each other.
6. List Builder for Twitter
A Twitter List is actually a separate Twitter feed made up only of accounts you've selected.
If you employ Twitter for work, it also can be useful thanks to separate colleagues and private friends into different feeds.
Twitter Lists are often public or private. If you create a public list, other users can see it on your profile and may subscribe.
The process is the same on desktop and mobile apps.
You can also see and subscribe to other people's Account Twitter lists.
7. Instagram for Chrome
Google Chrome extension that permits you to automatically just like the content posted by Instagram users supported your preferred hashtags.
It comes with a free and paid Pro version – but neither is worth some time.
All you would like to try to do once you have the extension enabled on Chrome is to easily leave the browser open and therefore the handy tool will like up to a maximum of 700 posts a day on your behalf.
It has a free trial.
Cloud-based software is more secure than it is because it uses your IP address.
700 posts per day using this free version.