I know that you have read the title and you may be confused that How can anybody earn $1000 per month from Appen.
So I'm here to help you to earn this money every month by doing just simple tasks.
I will show you my appen payments proof also so that you can work with appen without any doubt for payment.
There are so many freelance companies which provide you the opportunity to work from home. Today I'll tell you about this great opportunity and you'll also be able to earn from Appen $1000 per month very easily.
Appen Butler Hill is an American company which provides AI-related project services to Google, Facebook, Apple, Amazon etc. It provides machine learning and Artificial Intelligence services to most popular companies.
Appen has acquired some major AI companies i.e. Leapforce, Fright Eight in more than 20 billion dollars. The most important point is that Appen provides works all over the world.
This is the company where you can apply for this opportunity and It will provide work related to Social Media, Translation, Transcription, Internet Analyst etc.
If you are looking for work from home or any part-time online job this is the best opportunity for you.
How to join Appen?
From all over the world, It provides works more than 130 countries and more than 400,000 remote workers are currently working with Appen from home.
There are different types of job available for workers. You can work as part-time or full time. It provides work for a minimum of 5 hours per week to 40 hours per week.
If you are interested to join this: JOIN HERE
How to earn from Appen?
Appen has four main categories of jobs. They provide the following category of online part-time jobs:
Raters Jobs
Language Jobs
Micro Tasks
Corporate Jobs
Appen Raters Jobs
In this job, Appen provide you some rating tasks, You have to provide the rating to audio, video, pictures according to the project guidelines and based upon your own personal judgment.
These are the easiest jobs provided by Appen. I'm working with Appen from last 3 years and I have a great experience with this company. I worked on Facebook, Google, Apple, and Amazon project provided by Appen.
Appen has no spam activity and provides payment of work done by remote workers. You can check Appen Reviews on Glassdoor.
Appen Language Jobs
This type of jobs is related to different language tasks. You can transcribe or translate the languages from one language to another language.
If you're from India, You can apply for these jobs and can transcribe any language according to your region i.e Hindi, English, Bangla, Punjabi, Gujrati, Tamil etc.
I have worked on this project for more than 6 months and earn good money from Appen. I've provided my payment proofs on YouTube Videos so to see my earning proofs from Appen, Subscribe my YouTube Channel.
Appen Micro Tasks
In this Job, You've to complete some of appen micro tasks and mostly there are task-based jobs.
You're are provided some micro task by appen AMR app and you have to complete them in a given time period. This may be a survey task or some single time project or activity.
Appen Corporate Jobs
These jobs do not work from home jobs. These are provided in Appen offices located in worldwide location. In these jobs, you have to go to Appen Office and work at their location.
This is like a corporate job but there is no time restriction for the workers. You may work in a flexible time schedule.
How much money offer by Appen?
Appen offering different pay rate for different Geo location. In the US normal rate is $11 per hour whereas in India normal rate is $3.5 per hour.
There are different working hours for every project. A normal project is for a minimum of 5 hours per week to 20 hours per week with a maximum of 40 hours per week.
How you can qualify for Appen project?
You can apply to the above-mentioned projects and start working with Appen. But how to apply and how you will get the project and how to start working on that project is described in my YouTube Videos
Step 1: Check Your Email Regularly
After applying to Appen, You have to check your email on a regular basis.
Appen checks your profile and emails you about the project shortlist. So you have to check email and accept the invitation for the project.
Step 2: Digitally sign the Project
After accepting the project invitation from an email link, you have to digitally sign the agreement and accept their terms and conditions. You have to acknowledge all the agreements.
Step 3: Connect with a Payoneer account
This is the most important step, without completing this step, you can't start working on the project. This step is for receiving payments from Appen.
How can I receive payment from Appen?
To receive payments from Appen into your bank account, You've to create a Payoneer Account. You can receive payments from Appen through Payoneer or Paypal.
The first preferred method is Payoneer. If you have a Paypal account then you can link your PayPal account with Payoneer account and receive payments from Appen.
If you don't have Payoneer account, you can create here and you'll get $25 free if you create an account through my link. Here is the link to create a Payoneer account:
If you don't know how to create a Payoneer account, you can watch our YouTube video where we have explained the step-by-step process of creating of Payoneer account.
Appen Payment Proof
I have earned more than $5000 from Facebook through Appen and continuously earning. Here is my appen payment proof.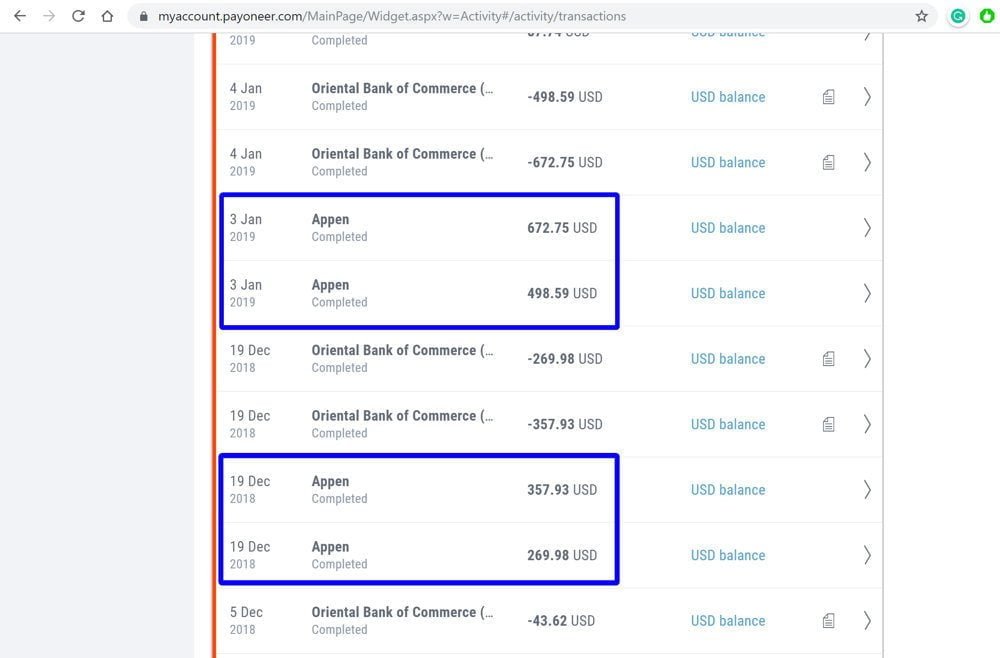 In Dec 2018, I have earned more than $1100+ from Appen by doing simple east task. In Nov 2018, I have worked of $600+ in Appen for Facebook.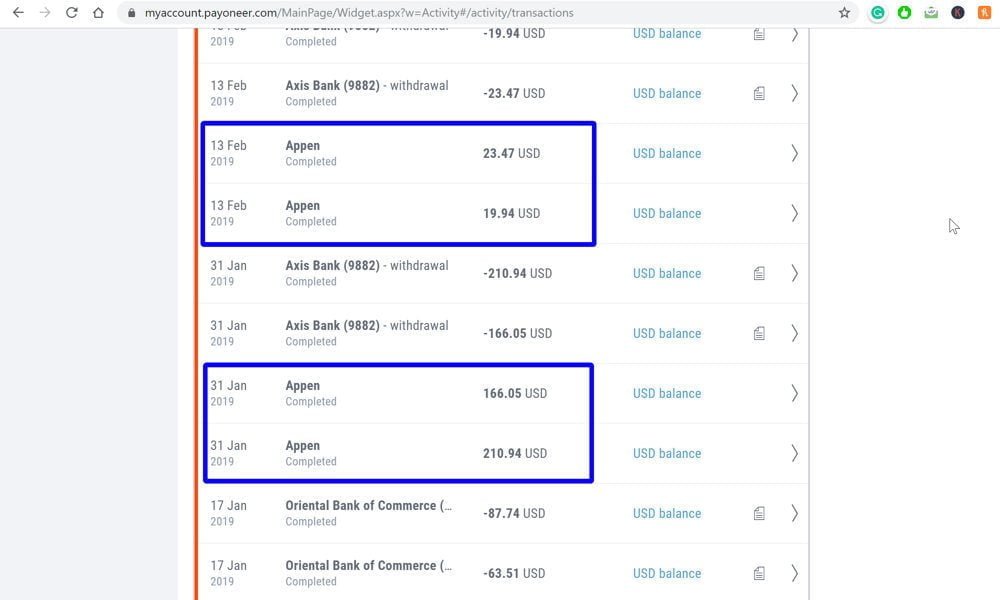 Its all depend on your work that how much you work on it. In Jan 2019, I was busy with my family so I worked for less hours so my payout was down. It was around $370 for Jan 2019. There are so many appen payment proof in my account.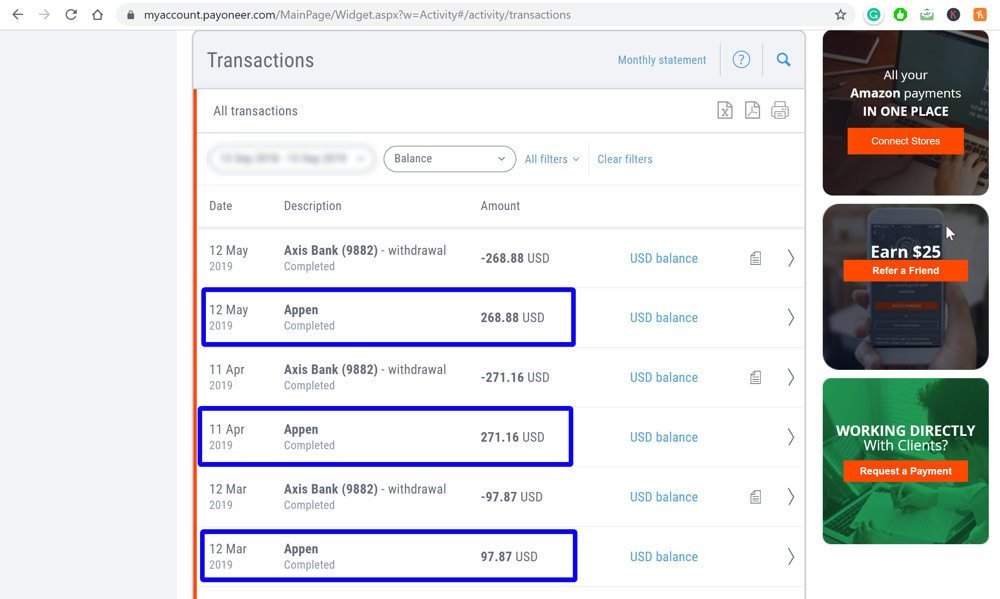 Conclusion
I have described the step-by-step process of generating more than $1000 per month from Appen. If you face any issue with Appen, you can comments your problems in the below comment section and I'll help you to resolve your issues. If you like this article, don't forget to share it with your friends.